Spirit Spyce's Place
Want to see my pic ES AngelBooks made?

I'm part of the spirit team for D'MaddHatters Team at the Site Fights!




Hope you enjoy your visit but do come back. Cuz when it comes to SPIRIT - you ain't seen nuttin' yet! *grin*
Here is a sample of my dustings!


~
*
~
*
S
P
R
I
N
K
L
E
S
*
~
*
~
I've wandered here
I've wandered there
In fact, I've wandered EVERYwhere!

Then came upon YOUR spirited site
Sure looks like you are doing it RIGHT!

Your spirit shines
Your spirit glows
You're covered with it
From head to toes!
~ * ~ * S P R I N K L E S * ~ * ~

When your guestbook is a lil spycey, you'll know that I've been there!

If you're running low on spirit, DO take one of my Spirit Sticks!






There are plenty more where THOSE came from! *smile*



---
You know you gotta SHOUT IT OUT!!

Here's one of my shouts:


I have a little teapot
Short & stout -
All full of spirit
Ready to pour out!

If you feel a sprinkle
Of my dust -
Then jump UP & SHOUT loud
'Cause you must!!


~*~*~*~Go DMaddHatters Go~*~*~*~


Doncha just love the bouncies? Get one! Get two or three or four! *grin*

Pretty Things
I love this welcome globe!!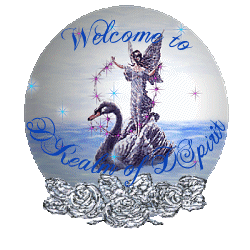 Thanks D'StarCatcher

Lots of lovely gifts - take a look!!


If you need some help, please send an email!

Please Sign My Spiritbook


You may View My Spiritbook

Flyer Spirit
More Spirit
PCA Entrance
Online Resources
More Online Resources
Get a FREE gift
Meet the Deckers
Enter our FREE drawing
Site design & maintenance donated by
SpyceWorks Design ©2000-2006

Contact us with any broken links or site questions.